Floater - 800R Back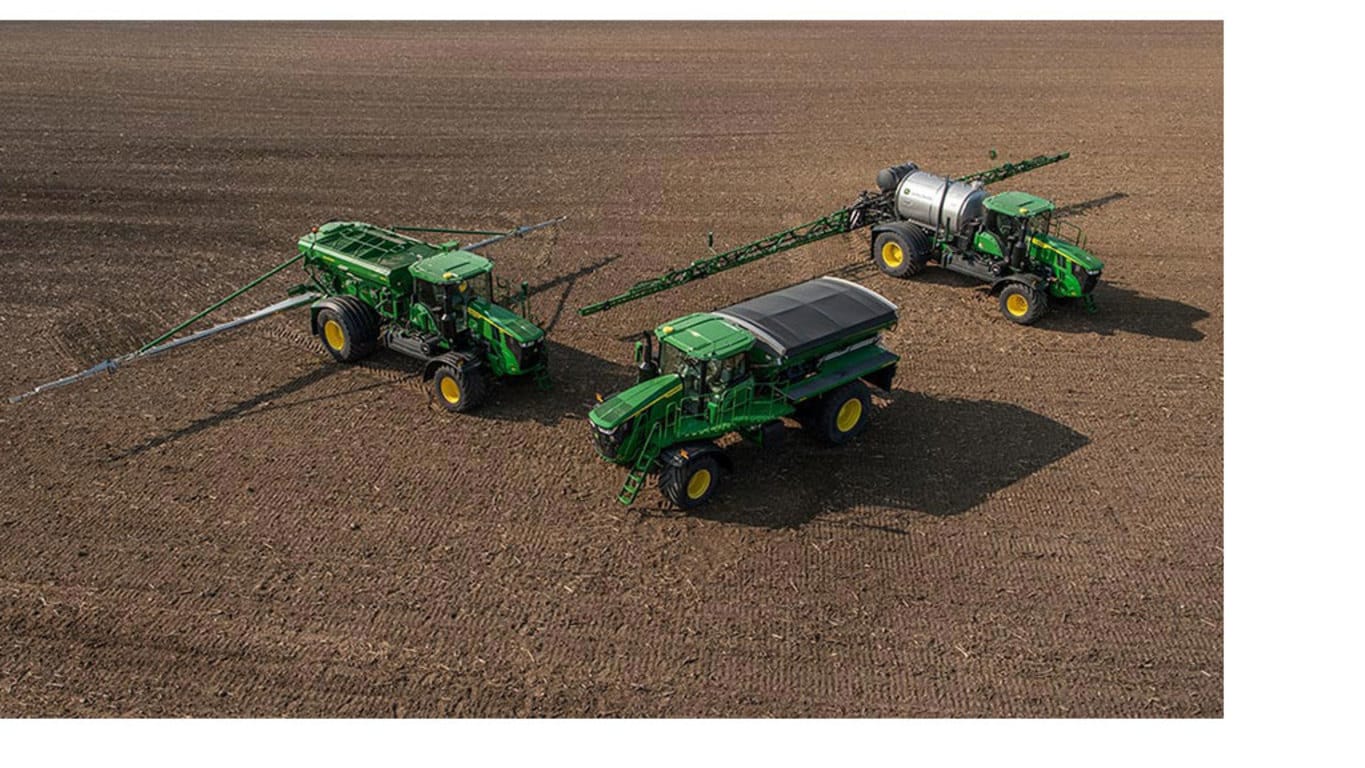 The 800R Floater features a high-capacity dry spinner spreader to help meet tight application windows in early spring and late fall.
Liquid, Dry, and Air Boom attachment options
Two cab and visibility packages
Common hydraulic implement pumps for faster attachment changeover
Integrated precision ag technology; JDLink™
Updated Dry Box implements
Request Information
Superior ride quality with dual c-channel chassis design
The 800R uses a dual c-channel frame design with leaf spring suspension to maximize ride quality and durability. The dual c-channel frame design is very strong, but it still allows the frame to flex. This is especially important when operating in rough field conditions at higher speeds because the frame flexes and absorbs some of the impact loads instead of transferring it to the rest of the machine including the operator.
Industry-proven AxleTech® axles are used on the front and rear and are designed to haul full loads of heavier-density products such as lime.
Parabolic leaf springs are used on the front axle in conjunction with dampers and offer an industry-best 102 mm (4 in.) of travel. Parabolic leaf springs have fewer leaves, which reduce internal friction allowing for easier compression and articulation.
Dual-rate leaf springs are used on the rear axle to ensure consistent ride quality regardless of how much product is in the box. The first smaller set of leaf springs is used when the box is empty. When the box is loaded, the first set of leaf springs fully engages and combines with the second larger set of leaf springs. This design helps the 800R drive and ride more consistently when applying in the field or in transport on the road.
The dual c-channel design, coupled with best-in-class suspension, helps absorb the impact loads and protects the operator and machine from harmful vibration. Less vibration improves productivity by reducing operator fatigue and decreasing the potential for failures caused by them.
Storage compartment
The external storage compartment is triple the size of the F4365 machines. The storage box can be used to store important items nearby, but outside the cab:
Personal protective equipment (PPE), such as gloves, goggles, face shield, apron, and emergency clothing
Grease gun
Density check tool
Tools
Hydraulic folding ladder
Operators can climb into the 800R via a hydraulically controlled front ladder similar to 4 Series Sprayers. When the machine starts to move, the ladder automatically folds up. When the machine stops, the operator simply hits the ladder button on the CommandARM™ control center to unfold it.
Cab and dry spinner spreader platforms
This industry-exclusive feature allows the operator to safely exit the cab and walk back to the dry spinner spreader to help with tendering or do a product density check.
Front retrieval points
If the machine gets stuck while operating in wet conditions, retrieval points are located on the front of the frame to assist in pulling the machine out.
Fenders and mud flaps
Front and rear fenders protect the 800R from mud and debris when operating in the field. Large front fenders similar to those used on large row-crop tractors protect the front of the machine, even when turning. Rear mud flaps that are attached to the dry spinner spreader platforms on the right and left side provide excellent protection from debris thrown by the rear tires.
Optimal weight distribution
800R Floater and bin configuration

Machine weight kg (lb)

Front weight kg (lb)

Rear weight kg (lb)

Weight distribution (percent)

Front

Rear

Base machine with single- bin DS35 (empty)

13,764 kg

(30,344 lb)

6,597 kg

(14,543 lb)

7,167 kg

(15,801 lb)

48 percent

52 percent

Base machine empty with dual-bin DS35 (MultApplier)

14,444 kg

(31,843 lb)

6,623 kg

(14,601 lb)

7,821 kg

(17,242 lb)

46 percent

54 percent

Base machine empty with four-bin DS35 (MultiBin)

14,556 kg

(32,090 lb)

6,407 kg

(14,125 lb)

8,149 kg

(17,965 lb)

44 percent

56 percent
AxleTech is a trademark of AxleTech International IP Holdings, LLC.
Keep operators fresh with Comfort and Convenience packages and Visibility packages
When staring down a string of 2,000-acre days, equipment isn't the only thing that needs to be operating at peak performance – operators need to be at their best, too. That's why John Deere put together a range of packages to give you just the right features to keep operators comfortable and efficient.
For corner-office comfort that can help make short work of the longest days, take a look at the Ultimate Comfort and Convenience package. The heated, ventilated ActiveSeat™ II seat isolates the operator from up to 90 percent of vertical movement and comes in leather with massage functions. The Ultimate package also provides a premium XM® ready sound system with subwoofer, a leather-wrapped steering wheel, a refrigerator, and more.

The following table gives a quick reference of what is contained in the Cab Comfort and Convenience packages.


| | | |
| --- | --- | --- |
| | Premium Comfort and Convenience package | Ultimate Comfort and Convenience package |
| Cloth seat | X | --- |
| Leather seat with carpeted floor mat | --- | X |
| ActiveSeat II | --- | X |
| Heated and ventilated leather seat with massage functionality | --- | X |
| Mechanical fore/aft and lumbar support | X | --- |
| Electronic controls and pneumatic lumbar support | X | X |
| Adjustable right-hand CommandARM™ controls with integrated CommandCenter™ touchscreen display | X | X |
| 24-degree right-hand seat swivel and 8-degree left hand seat swivel | X | --- |
| 24-degree right-hand seat swivel and 24-degree left-hand seat swivel | --- | X |
| AM/FM aux and Bluetooth® wireless inputs plus two cab speakers | --- | --- |
| 16.5-cm (6.5-in.) touchscreen radio, XM ready, and 6.1 speaker system with subwoofer including AM/FM Aux with Bluetooth wireless inputs | X | X |
| Automatic temperature controls with controls located on CommandARM | X | X |
| Footrests | X | X |
| Business band ready | X | X |
| Refrigerator | X | X |
| Four USB and one 12-V outlet | X | X |
| Right-hand accessory rail | X | X |
| 120-V outlet | X | X |
| Leather-wrapped steering wheel | --- | X |
Some of the features in the chart above are also available as attachments. There are also many options for mounting a variety of monitors, tablets, and phones.

NOTE: Bluetooth where certification allows.
The Ultimate Comfort and Convenience package offers an ActiveSeat II seat with 24 degrees of left-hand seat swivel, as well as an additional 9 degrees of right-hand seat swivel for easier operation. It also includes a leather-wrapped steering wheel, carpeted floor mat, and is a prerequisite for the Signature Edition, unique from the Premium package. The heating, ventilation, and air conditioning (HVAC) system location has also moved to provide a more enjoyable, quiet ride.

Features:
ActiveSeat II suspension, leather, pneumatic lumbar support, massage, electronic seat controls, adjustable bolsters, 24-degree right-hand seat swivel, and 24-degree left-hand seat swivel
Heated, ventilated, and massage functionality with the leather seat
Operator presence system that warns if the operator is out of the seat while operating key functions CommandARM console with integrated controls
21.3-cm (8.4-cm) 4200 or 26.4-cm (10.4-cm) 4600 Generation 4 CommandCenter Display
Left-hand ceiling storage compartment
Refrigerator located on the left side behind the instructor seat
Service ADVISOR™ data port
Tilt/telescoping steering wheel with position memory
Swing-out rear window
Right and left outside mirrors (manually adjustable mirror head)
Monitor mounts on right-hand front post and rear cab post
Premium sound system, including touchscreen radio, smartphone interface, AM/FM, aux and Bluetooth wireless with voice control, inputs, XM ready, six speakers with one subwoofer, and business band ready
Laminated windshield glass and dark tint on rear windshield glass
Air conditioner and heater with automatic temperature controls
Three 12-V convenience outlets (cigarette lighter style)
Six 12-V three-pin outlet with adapter (provides switched and unswitched power)
Five charging USB ports
120-V AC power outlet
One International Organization for Standardization (ISO) nine-pin connector
Power strip with convenience plug adapter
Digital cornerpost display with:

Fuel level gauge, including low fuel warning
Temperature gauge
Diesel exhaust fluid (DEF) gauge, including low DEF warning
Engine rpm
Transmission commanded gear or speed
Vehicle system functions

Beverage holders sized to accommodate various containers
Interior dome light in the ceiling
Map lights
ActiveSeat II seat provides a smoother ride
NOTE: The John Deere ActiveSeat II is only available in the Ultimate Comfort and Convenience package.
The John Deere Active Seat II utilizes an electrical control system to control the vertical seat top movement. The "active" control system minimizes vertical seat top acceleration by sensing vertical sprayer inputs and actively positioning the seat top to cancel those inputs. This results in a significantly smoother ride for the operator.
The system utilizes an electric motor on the center pivot working in parallel with an air spring. The purpose of the air spring is to support the operator while the electric motor dynamically positions the seat.
Two sensors are integrated into the seat suspension and are used for inputs into the electric motor control system. The accelerometer, which is integrated into the onboard control unit (ESU), measures seat top acceleration. The position sensor, mounted at the scissors hinge, measures vertical seat top position. The electronic controller uses these two signals in a control algorithm to determine the proper torque and motor speed commands to send to the electric motor to control vertical seat movement such that the vertical acceleration at the seat top is minimized.
The John Deere ActiveSeat II also has a ride firmness switch. The ride firmness switch is located on the left-hand armrest and replaces the suspension shock-dampening seat attenuation lever on the front right-hand side of the seat controls.
The ride firmness switch has three positions: plus, minus, and mid position. The three positions provide three different levels of seat performance:
The plus position provides the greatest degree of ride firmness. This position allows more of the sprayer's inputs to be felt by the operator (slightly rougher ride).
The minus position provides the least degree of ride firmness, allowing minimal sprayer inputs to reach the operator, resulting in maximum seat performance.
The mid position allows a balance between the plus (+) and minus (-) settings.
The ActiveSeat II is heated and ventilated leather seat for increased comfort and easier cleaning. This is only available with the Ultimate Comfort and Convenience package. ActiveSeat II allows for increased overall comfort and productivity.
The leather seat includes massaging capability to alleviate operator fatigue.Right-hand seat swivel is 24 degrees to the left and 24 degrees to the right.
Visibility packages
When the long days turn into long nights, visibility becomes imperative to operator safety and overall productivity. The Ultimate Visibility package provides a full 360-degrees of powerful LED cab lighting, a clear view all around the machine, and eight additional LED service lights to illuminate critical service areas.
The following table is a quick reference of features included in each Visibility package.
Feature

Premium Visibility package

Ultimate Visibility package

Cab

Halogen work lights (cab roof)

---

---

LED work lights (cab roof)

Six

Six

LED beacons (cab roof)

Two

Two

LED convenience lights

Eight

Eight

Front sunshades

X

X

Right-side sunshades

X

X

Rear sunshades

X

X

Front wiper

X

X

Right-side wiper

X

X

Vehicle

Halogen work lights (vehicle)

---

---

Halogen hood work lights

---

---

Halogen high beam (hood)

---

---

Halogen low beam (hood)

Two

Two

LED high beam (hood)

Two

Two

LED work lights (vehicle)

Six

Six (two are higher, 4400-lumen output lights)

LED hood work lights

Four

Four

LED beacons

One rear

One rear

Boom LED lights

Two

Two

Boom halogen lights

---

---

Manually adjustable left- hand and right-hand boom mounted with bubble mirror

X

X

Manually adjustable right-hand cab

---

---

Electrically adjustable and heated right-hand cab

X

X

Manual underframe mirror

---

---

Electrically adjustable and heated underframe mirror

X

X

Additional camera ready

X

---

Factory-installed left- hand and right-hand side view cameras

---

Not available for factory install on model year 2023 machines

Integrated backup camera

X

X
Bluetooth is a trademark of Bluetooth SIG, Inc. XM is a trademark of Sirius XM Radio, Inc.
John Deere Signature Edition: The ultimate in comfort, visibility, and technology
To make the most powerful John Deere options available in one cost-effective package, 800R models can be ordered with the John Deere Signature Edition.
Marked with an exclusive badge only available on the Signature Edition, this package includes:
Ultimate Comfort and Convenience package
Ultimate Visibility package
ActiveSeat™ II equipment
JDLink™ five-year subscription
Premium 3.0 or Automation 4.0 activation
4G LTE connectivity hardware

Get all the top-of-the-line comfort features and technology options in one special edition: the John Deere Signature Edition.

Part solutions are available through John Deere to resolve unique mounting configuration needs.
Improved machine performance equals more productivity
Engine and transmission
The 800R uses an industry-proven 9L (549-cu in.) PowerTech engine combined with an IVT to provide maximum power and efficiency. The 9L (549-cu in.) engine provides 272-kW (365-hp) rated horsepower and up to 298-kW (400-hp) peak horsepower when needed.
The IVT is common to the 8R Tractors but has been modified for higher field and transport speeds.
Applicator field and transport speeds
The 800R can apply product up to 48 km/h (30 mph) in field and travel on the highway empty at speeds up to 74 km/h (46 mph). The engine and transmission are common to other product lines in John Deere which means service locations, service intervals, and parts are all common.
To ensure the 800R can run all day long, it comes equipped with a 567-L (150-gal.) fuel tank and 29.5-L (7.8-gal.) diesel exhaust fluid (DEF) tank located on the right side of the machine. The slender tank designs are attached to the dual c-channel frame, reducing the torque load the tanks can have on the frame when full. Both tanks can be easily filled from ground level.
Decrease machine complexity with the common hydraulic implement pump
On model year 2022 and newer machines, the common hydraulic implement pump for the 800R chassis decreases implement changeover time by more than 50 percent and decreases hydraulic line complexity with the bulkhead. The secondary implement pump that was previously required for liquid systems, air booms, and all MultiBin and MultApplier dry spinner spreader options is not common and comes factory installed. This change to the factory machine means the following benefits:
Reduced changeover time for combo machines to approximately 6 hours
NOTE: The single bin configurations only requires one pump and are not capable of becoming combo machines. See the compatibility chart for more details.
Simple turnkey experience with the StarFire™ 7000 Integrated Receiver
The StarFire 7000 Receiver is the latest addition to the suite of Precision Ag Technology from John Deere. The StarFire 7000 Receiver offers greater accuracy, faster pull-in times, and season-to-season repeatability. This means less hardware, faster times recovering from a shading event, and the confidence that your guidance lines and boundaries do not shift from year to year. The integrated design further enhances the value that you have come to expect from StarFire products.

Similar to the StarFire 6000 Integrated Receiver, the StarFire 7000 eliminates all setup, installation, and calibrations. There is no need to verify machine and receiver measurements, as this has been done precisely for you at the factory. You will spend 60 minutes less per receiver move each season, which gives you more time to focus on other parts of your operation.

With updated Ethernet connectivity, software updates are easier and faster. StarFire 7000 Integrated Receiver maintains the speed to update software in under 4 minutes while remaining in the cab. Over-the-air updates are 85 percent faster with the StarFire 7000 Integrated Receiver because of Ethernet connectivity.
Benefits to the StarFire 7000 with SF-RTK
5-year repeatability
10-minute pull-in time
2.5-cm (1-in.) pass-to-pass accuracy
Drop-in replacement for StarFire 6000 Integrated Receivers
To learn more about the StarFire 7000, visit the StarFire 7000 page.
More versatility with the DS35 Dry Spinner Spreader
New Leader® Dry Spinner Spreader
The 800R uses an industry-proven New Leader Dry Spinner Spreader. This 4.27-m (14-ft) long dry box can hold 9.34 m3 (330 cu ft) of product and is available in multiple configurations to meet a variety of application needs. Depending on the product, spread widths can range from 18.3 to 27.4 m (60 to 90 ft).
Single bin option
The single bin option can be ordered in a 304 stainless steel or a 409 painted stainless steel. A removable end gate, inverted V, and electric oiler come in base. At 24 km/h (15 mph), the single bin can spread fertilizer at rates as high as 499 kg (1100 lb) per acre or spread lime at rates as high as 2994 kg (6600 lb) per acre.
MultApplier insert
A 2.1-m (7.0-ft) 304 stainless-steel MultApplier insert can be added to the single bin to spread two products at once. The MultApplier uses a belt over stainless-steel conveyor chain, so no oil is necessary. Simply remove the end gate of the single bin to install the MultApplier insert.
MultiBin insert
A 304 stainless-steel MultiBin insert can be added to the single bin to spread up to four products at once. In addition to the second large bin, two micronutrient bins are on the back of the MultiBin. Similar to the MultApplier insert, the MultiBin conveyor chain is belt over stainless-steel conveyor chain and does not require oil.

The divider separating the two micronutrient bins on the rear can also be removed to make one large micronutrient bin. Standard rate metering rollers come in base with the MultiBin insert. A pneumatically controlled lid covers the micronutrient bin(s) opening and is operated in the Generation 4 CommandCenter™ display.

New Leader is a trademark of Highway Equipment Company.
Improve application accuracy with the AB30 Air Boom
For ag service providers and large-scale producers, the AB30 Air Boom is available as an option for the 800R Floater. The AB30 Air Boom builds on the advantages of the 800R chassis with the addition of an 8.5-m3 (300-cu ft) dry box with dual-product capability and a 21.3-m (70-ft) wide boom.
Durability and uptime are extremely important to an ag retailer's business. With the number of acres these machines need to cover each year and the varying weather conditions that can impact the schedule, increasing uptime is crucial to the profitability and success of the ag retailer. The AB30 Air Boom is designed to maximize uptime through improved performance, reliability, and operator comfort.
Performance
The air boom option allows operators to accurately apply dry fertilizer across a wide 21.3-m (70-ft) swath at speeds up to 48.3 km/h (30 mph), and at maximum rates up to 544.3 kg (1,200 lb) per acre at 16.1 km/h (10 mph). With its 8.5-m3 (300-cu ft) capacity dry box and dual-bin configuration, operators can simultaneously apply up to two products at variable rates to better meet crop nutrient needs with fewer passes over the field. Application accuracy is further improved with half-width section control.
The air distribution system features an efficient design that consistently delivers even air flow from the fan to the booms. The closed-loop speed control allows the fan to run independent of the motor speed, increasing efficiency. This design requires less power for the air system and diverts more engine power to the ground during acceleration and operation.
Reliability
The electrical and hydraulic systems have been designed from the ground up with full integration into the 4600 CommandCenter™ Display for easier control and maintenance. The boom structure and supports have also been strengthened to extend the life of the booms regardless of the terrain.
To improve the reliability of the air distribution system, the fan oil cooler is mounted on the right side of the machine, exposing it to less dust and vibration while making it easier to maintain. A large screen was also added over the fan air intake to block residue and debris from entering the air system.
Operator comfort
The front ladder provides easy access to the machine even when the booms are folded. During tendering, operators can quickly access the top of the dry box from the cab platform. Handrails can then be folded up on both sides of the dry box, allowing the operator to work more efficiently.
The 800R with the AB30 Air Boom improves the revenue potential for ag service providers by increasing machine productivity through greater durability and superior field performance.
Maximize seasonal capabilities with the LS20 Liquid System
Seasonal flexibility is crucial for maximum machine utilization. LS20 Liquid System option maximizes the seasonal capabilities of the 800R. Together with Hagie™ Manufacturing, this liquid system is designed as a complete package with industry-leading advantages. Learn more on the LS20 product page.
Accurately apply low-rate herbicide and high-rate fertilizer with a single machine
During the busy spring season, you need to complete jobs as crops are planted, from applying high-rate fertilizer on unplanted corn fields to low-rate pre-emergent herbicide on soybeans. Dual centrifugal solution pumps with dedicated magnetic flow meters work together to achieve pin-point rate accuracy through the entire flow range between 18.9 and 1589.9 L/min (5 and 420 gpm).
Fast, clean, automated tank filling enabled by PowrSpray™ technology
When the tank is empty, every second counts trying to get back into the field. PowrSpray features independent fill and spray circuits with dedicated pumps to maximize flow. The dedicated self-priming transfer pump can fill the solution tank at over 1135.6 L/min (300 gpm).
This PowrSpray system can:
Automatically fill to a predefined tank level while automatically adjusting engine speed
Pull fresh water from the rinse tank to clean the fill system
Be manually reduced if a slower fill rate is desired
Pause filling, giving you sufficient time to add ingredients and rinse containers
Allow for quick and easy operation at the load station for all skill levels
Cover more acres per pass using the widest factory-installed boom
The time-proven 27.4-m (90-ft) sprayer steel boom unlocks reliable productivity for ag service providers. This durable boom features:
Full-boom breakaway
Tridirectional boom tip breakaway
Auto-fold
The standard dual plumbing system features 76.2-cm (30-in.) off-center high-flow nozzle bodies (turrets) and a 152.4-cm (60-in.) on-center cam-lock. When configured for 152.4-cm (60-in.) cam-lock spacing, the effective spray pattern is 29 m (95 ft). The 76.2-cm (30-in.) nozzle body configuration achieves a 27.4-m (90-ft) spray pattern.
Cover more acres between refills with the large solution and rinse tanks
With higher-speed planting, the season is becoming more condensed every year. When you need to get acres covered, getting tender trucks back to the plant increases productivity. To hold more product onboard, the LS20 solution system features a stainless-steel 7570.8-L (2000-gal.) solution tank and black poly 757.1-L (200-gal.) rinse tank.
The large solution tank allows operators to cover more acres between refills. This tank gets tender trucks empty faster and back on the road, translating into less idle time for the tender truck and you and quicker load turnarounds.
Hagie is a trademark of Hagie Manufacturing Company and similar to John Deere branded equipment, Deere will also support Hagie equipment.
Deliver accurate rate control with integrated SprayStar™ spray rate control system
The SprayStar spray rate control system is a standard feature that is integrated into the design of the self-propelled sprayer system (not a third-party International Organization for Standardization (ISO) control add-on) and delivers accurate and consistent on-target rate control. All spraying and vehicle functions are displayed on the Generation 4 4600 CommandCenter Display for easy operation and setup. In addition to these functions, all precision technology can be used on the same display for complete integration and ease of operation. The engine, chassis, solution system, and precision controllers provide central communication through the display for many vehicle and solution system functions that are simple and easy to use.
Provides superior rate control, response times, and ease of use
Rate control locks on to the desired application rate much more quickly and maintains it better than third-party controllers Easy to understand and simple to set up the key values you must enter to execute the spraying job
No cross reference to nodes or task controller like other third-party systems
High-speed hydraulic pulse-width modulated control valve varies solution pump speed to produce only the required solution flow in coordination with the flow meter and pressure sensor rather than a valve to restrict flow
The engine, transmission, and hydraulic drive pump work together to optimize efficiency of the entire system. This cohesiveness provides fuel savings and optimizes power to the ground and delivery of product through the solution system to the nozzles.
John Deere Connected Support™ prevents downtime and efficiently resolves issues with revolutionary technology-based solutions
When you buy John Deere equipment, you expect reliability. You also know that problems can happen, and a product is only as good as the support behind it. That's why John Deere equipment is prepared with technology that senses potential issues and can alert you and your dealer promptly—in the cab or anywhere you are.

John Deere Connected Support is a revolutionary change to support that leverages technology and the connectivity of JDLink™ telematics to prevent downtime and resolve problems faster. These tools decrease downtime by an average of 20 percent, enabling faster responses to unexpected problems and reducing technician trips to your machine. For some issues, unplanned downtime can even be prevented altogether through prediction of the issue.

With your permission, John Deere Connected Support:
Keeps you running by monitoring machine health and promptly alerting you and your dealer of issues
Saves time by remotely viewing in-cab displays, reducing trips to the machine
Reduces or even eliminates technician trips to a machine through remote diagnostic and remote software reprogramming capabilities
Connects experts with the information needed to respond to downtime faster and prevent it altogether
With more than a decade of experience leveraging connectivity to solve problems, no one else has the experience, tools, and knowledge to keep you running as John Deere and your John Deere dealer can. Connected Support is an in-base feature on all John Deere products with factory- or field-installed JDLink.
Enhanced New Leader® ISO VT user experience for model year 2023
Run screen
The 800R utilizes the 4600 CommandCenter™ Display that is also found in other John Deere large ag equipment today. The CommandARM™ controls, Generation 4 CommandCenter display, and the New Leader ISO VT (International Standards Organization Virtual Terminal) have been updated and tailored to the needs of operators. This combination allows operators to see all key functions on one run screen including AutoTrac™ assisted steering system, variable rate documentation, field totals, and dry spinner spreader settings. Click anywhere on the display to expand and easily adjust information.
Hybrid ISO VT integration
This improved user experience allows the operator to set up, monitor and control the dry spreader much easier and quicker than previous model years. For model year 2022 on the 800R, the operator's experience has been enhanced in the following ways:
The spreader controls have now been moved to the CommandARM, Gen 4 display, and multi-function lever
Improved integration of the New Leader ISO VT that uses the Ag Leader Dry Rate Control system:

Optional John Deere Gen 4 QT run page set up
Optional New Leader ISO VT quarter page run page set up
Work setup on the DS35
To prepare for field application, simply press the setup button in the bottom left corner of the display run page, and it will direct the user to the work setup window. Work setup is identical for all bin configurations.
Select the location box to setup user information including farm, field, and client. User information is not required to load and execute a variable- rate prescription.
Select the equipment box to do the initial setup of the machine including the number of bins in the dry spinner spreader.
Select each one to input or change the name of the product that will be applied. Enter 24 unique names into the display for various product types such as single product, blended product, or multi-product variable rate. The user can also choose the target rate for spreading or load a variable- rate prescription.
Dry Rate Controller on the DS35
Once the work setup window is complete, the updated rate control application can then be used to input and setup the following:
Target spread rate
Target spread rate – Selecting the target rate box allows the operator to quickly adjust three different target rates or load a prescription if needed. The target rates can be adjusted when spreading by changing the rates within the New Leader ISO VT Run Page.
Bin details
Product density/product applied – Selecting either of these areas will take the user to a bin details page where more frequent dry spinner spreader inputs and adjustments are made. For dry spinner spreaders with multiple bins, individual tabs at the top of the screen make it easy to quickly toggle between bins.
Features on the main ISO VT run page include:
Feed gate height setting
Feed gate opening
Bin alarms
Spinner speed
Bin volume
Product density
Target rate and actual rate
Rate increase and rate decrease
Conveyer speed
Manual belt mode
Section status (G5 only)
Edge spread status
New Leader is a trademark of Highway Equipment Company.
Key Specs
Peak rated power
272 kW
365 hp
Transport speed range
0 to 74 km/h
0 to 46 mph
Chassis
Dual c-channel frame
Dry Spinner spreader - Type
DN495 Dry Spinner Spreader
Dry Spinner spreader - Capacity
9.34 m3
330 cu ft
Dry Spinner spreader - Spread width range
18.29 to 27.43 m
60 to 90 ft
Air Boom - Type
AB485 Air Boom
Air Boom - Capacity
8.49 m3
300 cu ft
Air Boom - Spread width range
21.3 m
70 ft
Powertrain
Peak rated power
272 kW
365 hp
Emissions
Final Tier 4 (FT4)
Displacement
9.0 L
584 cu in.
Fuel tank capacity
586 L
155 gal.
Diesel exhaust fluid (DEF) tank capacity
29.5 L
7.8 gal.
Drive
Full-time two-wheel drive (2WD)
Spreading in field speed range (dry box)
0 to 48 km/h
0 to 30 mph
Transport speed range
0 to 74 km/h
0 to 46 mph
Chassis, frame, and tires
Chassis
Dual c-channel frame
Suspension
Four-wheel leaf spring and front axle dampers
Air compressor
On-board air compressor
Primary brakes
IVT and four-wheel pneumatic brakes
Parking brakes
IVT and two-wheel (rear) pneumatic parking brake
Turning radius
10.5 m
39 ft
Front tires
750/50R26 tires - Alliance, Michelin®, or Trelleborg® (option)
Rear tires
1050/50R32 tires - Alliance or Michelin (option)
Ladder raise/lower
Automatic
Empty weight with single bin
14,061 kg
31,000 lb
Cab and controls
Display
4600 CommandCenter
Lighting
Deluxe halogen lighting package
Light-emitting diode (LED) lighting package (option)
Dry spinner spreader
Type
DN495 Dry Spinner Spreader
Box material
409 painted stainless steel
304 stainless steel (option)
Capacity
9.34 m3
330 cu ft
Spread width range
18.29 to 27.43 m
60 to 90 ft
Automatic section control
John Deere Section Control (G5 box)
Box options
Single bin
Two-bin MultApplier insert (option)
Four-bin MultiBin insert (option)
Conveyor
Single bin - belt-over chain
MultApplier and MultiBin - belt-over stainless-steel chain
Air Boom
Box material
304 painted stainless steel
409 painted stainless steel
Capacity
8.49 m3
300 cu ft
Automatic section control
John Deere Section Control
Box options
Two-bin capable of 50/50 or 60/40 split
Conveyor
Dual conveyors (left and right) with stainless-steel chain
Gate height physical adjustable range
2.5-5.3 cm
1-2.1 in.
NOTE: The gate is set from the factory at 3.8 cm (1.5 in.). It is not recommended to adjust the gate height below 3.8 cm (1.5 in.) as operators may experience conveyor performance issues such as belt stalling or it may affect rate accuracy.
Controllable conveyer rpm range
Bin 1 and Bin 2 running separately: 2-70 rpm
Bin 1 and Bin 2 running at the same time: 2-40 rpm
Conveyor application rates
56-1345 kg/ha
50-1200 lb per acre
*Assuming 16.1-km/h (10-mph) vehicle speed, 1041.2 kg/m3 (65 lb/cu ft) material, and 3.8-cm (1.5-in.) gate height. This also assumes CFR 0.2758.
NOTE: 1345 kg/ha (1200 lb/acre) is the maximum rate between all bins with the assumptions listed above. 56 kg/ha (50 lb/acre) is the minimum rate from a single bin (1 or 2) with the assumptions listed above.
Controllable metering rpm
Bin 3 (granular bin): 3-61 rpm
Metering application rates
6.7-139 kg/ha
6-124 lb per acre
*Assuming a yellow metering roller, 16.1-km/h (10-mph) vehicle speed, and 1041.2 kg/m3 (65 lb/cu ft) material. This also assumes a CFR of 0.0442.
Volumetric flow rate
Less than 0.74 m3/min
26.1 cu ft/min
NOTE: Plugging of booms may occur if the sum of the flow rate of all bins is greater than spec. NOTE: To calculate the volumetric flow rate per bin: volumetric flow rate (cu ft/min) = (rate (lb/acre) x speed (MPH) x 0.1414)/density (cu ft). Constant of 0.1414 assumes 21.3-m (70-ft) spreading width.
Additional information
Beacon lights
Front- and rear-mounted beacon lights
Date collected
10-Oct-2017